A Conversation with the Cranberry Township EMS director
by Intern, on May 25, 2018
Can you think of the last time you called an ambulance? Chances are, it was probably a bit of a scary situation. Whether for a broken leg or something more serious, nobody wants to be in that position. However, one thing is sure: you can rest assured knowing you're in the capable hands of an EMS worker. These medical professionals offer lifesaving services and are considered medicine's front line. While a vital service for many, few really recognize how important their services are.
National EMS Week, established by The American College of Emergency Physicians, aims to shine a light on the work these professionals offer to their communities on a day-to-day basis. While the situations are oftentimes high stakes, they always work to provide the highest quality of care. In honor of National EMS Week, we spoke to a local EMS professional to learn more about the work he and many others do on a regular basis and how you can support your local EMS department to be "Stronger Together."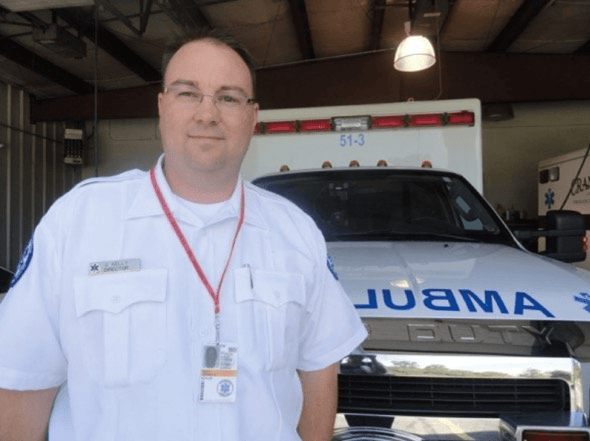 Photo courtesy of the Cranberry Patch.
When Jeff Kelly first set his sights on becoming the director of Cranberry EMS, Cranberry's Emergency Medical Services reputation was less than stellar. Kelly took those obstacles and looked at them as opportunities to grow the program. Now, seven years later Kelly is continuing his public outreach and striving to strengthen his community's medical services.
WordWrite: Could you tell us why you became an EMT?
Jeff Kelly: I have been affiliated with the Volunteer Fire Service since I was 16 years old. I went away to college for Sports Medicine and Athletic Training. While there, an emergency took place that required the EMS to come and stabilize the patient and then transport them to the hospital. I decided then that I wanted to become an EMT. I then acquired my EMT certification through CCAC in December of 1993.
WW: Is there a difference between an EMT and paramedic? If so, can you explain?
JK: There is a difference and it revolves mostly around the clinical skills that each possesses. An EMT goes through approximately 140-200 hours of classroom training prior to being eligible to sit for the National Registry Exam. Conversely, a Paramedic program is over 2,000 hours and has the following in its curriculum: advanced clinical skills (intubation, defibrillation, cardioversion, advance airway and IV skills) but also more in-depth knowledge of cardiology, pharmacology, anatomy & physiology, respiratory, neurology, trauma and other acute medical emergencies. The paramedic curriculum is made up of classroom, clinical and "ride along" truck time in which the precepting student must perform a standard number of skills prior to being eligible for the National Registry Exam.
WW: What is the most rewarding part of your job?
JK: The most rewarding part is knowing that someone is alive today because of my actions. There is no greater feeling, in my opinion, than knowing someone is alive because of the direct impact my clinical care had on them.
WW: What is the biggest challenge your organization faces? Or, the industry as a whole?
JK: Currently there are many challenges within the industry. The three most discussed are reimbursement, recruitment and retention. Reimbursement from all payers (Medicare, Medicaid, commercial insurers) is far below the costs of staffing and responding an ambulance. Recruitment is much more difficult now than it was previously because EMTs and paramedics now have greater choices with which to use their skills. EMS is currently competing with other industries like gas & oil wells, urgent cares, even hospitals and doctors' offices, for the people who possess this unique skill set. When I started in EMS, EMTs and Paramedics were only expected to work in the back of an ambulance. Today that is not the case. Which leads us to the third issue, retention. As an EMS manager, my team and I are continuously trying to come up with ways to keep the folks that we have not – just at our service, but within our industry.
WW: Could you tell us about the most memorable moment in your career?
JK: My EMS career has been filled with quite a few memorable moments, unfortunately, many more are bad than good. I have seen many things that are very hard to "unsee." That said, I have also been witness to many miracles of patients who have made brilliant recoveries. The memorable moments for me are when I can either directly see, or receive feedback from a patient or patient's family of what an excellent job we have done. I don't get to work in the back of the ambulance much anymore and I do certainly miss the interaction with the folks who call EMS.
WW: What is one issue you have today that wasn't a concern 10 or 15 years ago?
JK: Recruitment of people into the industry is a much more widespread problem than 10 or 15 years ago. Without people wanting to do this job, and younger folks not entering the profession, we are burning out our seasoned providers and threatening the very services that we provide the community.
WW: What do you wish more people knew or understood about EMS professionals/volunteers?
JK: I would encourage folks to get out and meet their EMS providers. I would more strongly encourage the EMS providers to engage the public so that you can educate them as to what EMS does and can do for them. EMS can be a rewarding job with a lifetime of memories and great clinical experiences. You see all sides of people and can experience the highest of highs like assisting with a baby delivery, to the lowest of lows like losing a pediatric patient, all in the same shift. It is a stressful job, but one that we need people to understand and support. I would also like to add that what happens in the real world is completely different than what you might see on TV or in a movie.
WW: What is one powerful way the community can support EMS?
JK: There is always a need for financial support. However, I think the best way to support your local EMS organization is to reach out to them. Ask to come visit at an open house or have them come to your location for a site visit to begin a dialogue about what EMS is, does and how it can benefit everyone within a community.