Remember this ONE thing when producing your next webinar
by Erin Hogan, on Aug 17, 2020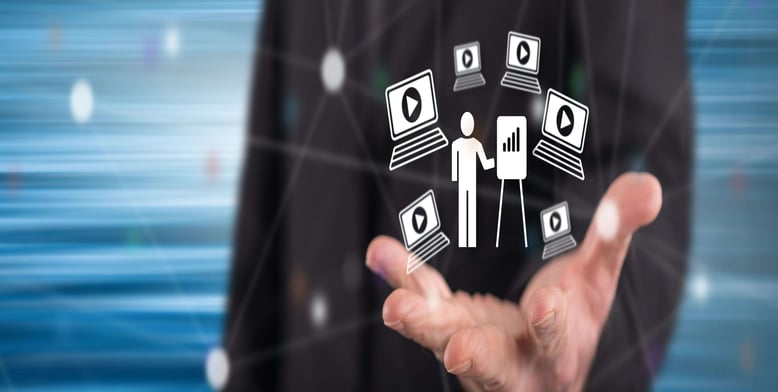 There is a lot of digital clutter out there these days. I don't know about you, but I'm growing tired of the countless webinars promising "the secret to X," only to find myself wasting an hour on repetitive information. It seems there is a constant struggle for marketers looking to strike a thoughtful balance between useful content and information overload. A delicate dance, indeed, and one few have mastered.
I certainly can't fault them for trying. After all, marketers have a captive audience right now, with much of the workforce still hunkered down in their homes. In fact, our webinar partners at On24 (a webinar hosting system we utilize for clients) recently revealed to us that since March, average event attendance rates are up 30 percent.
I've been producing webinars my entire career. I've used every platform in the book, tackled subjects from metallurgy to personal finance, and have experienced every technical failure you can think of — including a power outage, which was super fun. I can tell you that many of the hiccups people worry about when launching a webinar (such as "What happens if I forget to advance the slides?" or "Should I move the 'Top Gun' poster behind me?") simply pale in comparison to the biggest problem — poor content.
Even if you are the absolute driest speaker in the world, if you're sharing valuable information, people will sit up and listen. Anyone who has endured an episode of "60 Minutes" knows exactly what I mean.
When creating your next webinar, remember you should be spending more time developing the content for the presentation than anything else. Here are some tips to guide you.
Focus on your Story
I often tell clients "just because you can pay for a Super Bowl spot, doesn't mean you should." In other words, the fact that something is popular at the moment, doesn't mean it's the right strategy for you or helpful to your brand. In fact, choosing the wrong content or delivery method can really leave your audience confused.
Staying true to your authentic business story (what we call your Capital S Story) is critical. It's your lifeblood, your reason for existing, what makes your company tick. When in doubt, always refer to your core messaging as a starting point and build from there. And remember, even if you can afford to pay Dr. Fauci himself to talk about the latest COVID-19 statistics, if you're not a health care company, it probably won't help move the needle.
Choose a specific topic
One issue I often run into with clients is they have a hard time selecting a topic that really focuses on a specific theme. For instance, it's not enough to say, "Come to our webinar about digital marketing," because you're not giving a potential attendee a reason as to why your event is different. When hitting this roadblock, try a simple hub-and-spoke approach to topic planning. Put your general topic in the middle, and then begin to branch out to sub-topics on the spokes. So, if we're referring to our example above, "digital marketing" would be your hub, and "video advertising" might be a spoke.
Don't skimp on slide design
Raise your hand if you're tired of text-heavy slides 🙋🏻‍♀️. This is probably the number-one webinar content-killer out there. I cannot tell you how many times I've had to tell speakers that their notes belong to them, the slides are there for the audience. As a general rule, if you have more than three bullet points on a slide, you should rethink how it's designed. Don't be afraid to mix it up with charts and graphic elements or engage an actual designer. Otherwise, your audience will be stuck thinking, "OK, you're repeating what I'm seeing, so let's move on."
Give yourself ample time
One of the beauties of webinars is that they can be produced relatively quickly. But not allowing enough time for creative development and team review can lead to a truly disjointed event. Think of a webinar like a Broadway show — you wouldn't head into opening night with just a few days of rehearsals under your belt. Share your content with a couple different audiences before the big day and ask for honest feedback. You will be left with a much more fine-tuned presentation in the end.
Looking to produce a webinar soon and need help? Download our planning calendar template below to kickstart your efforts. I've used this on every single webinar I've produced, and it's a lifesaver! Happy planning.