Stressing the importance of professional development within your organization
by Erin Hogan, on Oct. 23, 2019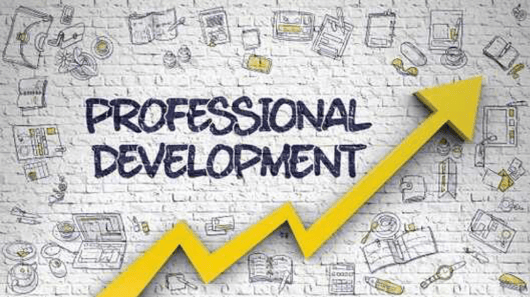 We're a lucky group here at WordWrite. In any given year, our team is traveling to conferences, sitting in on webinars, attending local marketing events and even hosting a few meet-ups of our own. Why? As WordWriters, we believe in the power of being intellectually curious. In our industry specifically, the norms are constantly changing, and it's our job as marketing consultants to stay ahead of the ever-changing curve.
As an employee, working for a leadership team that's invested in my professional development helps me recognize my value beyond just the dollars and cents of my compensation. And I know that what I learn from each experience will help advance the firm's position with clients and future partners.
Many business leaders find it difficult to dedicate the time toward employee development, but studies show cutting back on these opportunities can cause more harm than good. Here are three reasons why you should invest in your top talent.
It helps retain a loyal, engaged staff
According to the Bureau of Labor Statistics, the United States unemployment rate fell to 3.7% in October 2018, a record low since December 1969. And a recent survey from Jobvite shows nearly 75% of hiring managers are having trouble attracting top talent.
If increasing salaries isn't an option, investing in continued learning experiences is a great way to retain employees during a tight labor market.
It helps younger employees work smarter, not harder
Training is one of the most challenging aspects of being a manager. Finding time to effectively groom young talent can put stress on mid- to senior-level employees, creating unnecessary anxiety within teams. Working with junior level employees to identify educational opportunities not only prepares them for a future promotion, but also creates a more efficient working environment.
It helps you identify potential leaders
At the end of the day, the employees who care most about your company will welcome the opportunity to hone their skills and prepare for advancement. They will also be eager to share what they've learned to help improve the business. These are the individuals you will want to keep happy as you look to the future. At some point, it will be time to move on and you'll want to know you've left your company in capable hands.
Start your training journey with us
Beyond our own staff, we've seen just how challenging it can be for our clients to make their own development a priority. That's why we developed our Chapter Series – a grouping of well-crafted, industry-leading training programs that help employees navigate some of the most challenging communications situations. From crisis communications, to social media advertising, each session has been thoughtfully designed by our team of experts.
For more information on our Chapter Series programs, click here.